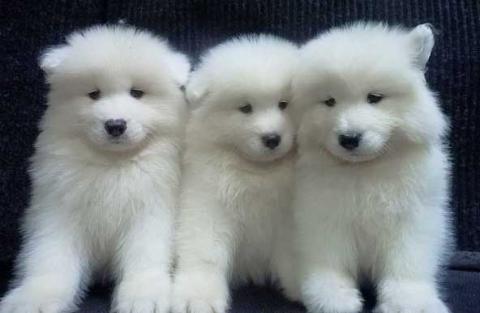 Kabeara Samoyeds for Sale in Lockport, IL
Near Chicagoland, situated on nine acres of Lockport Illinois, Kabeara Kennels has more than enough room for the fun-loving, playful Samoyed breed to run and play. If you are unfamiliar with Samoyed puppies , they are one of the friendliest breeds around, the perfect family dog. Great with kids of all ages, a Samoyed truly is a wonderful addition to any family.
Breeding for over 35 years, Kabeara Kennels takes pride in the puppies we produce. We take a great deal of care in breeding top quality, pure-bred Samoyeds. Many of our litters are bred from Champion blood lines, one reason we guarantee the general health, hips, and eyes for all of our puppies and adult dogs.
Take a look through our photo galleries to view some of the puppies and dogs available to take home today. Contact us today for more information about these amazing animals. We can meet you at the airport to pick up your Samoyed puppy.